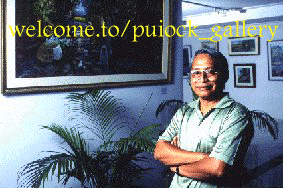 เปิดให้เข้าชมแล้ว บ้านศิลปะ สงัด ปุยอ๊อก-< Baan Silapa is now open to the Public>-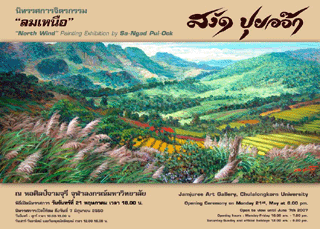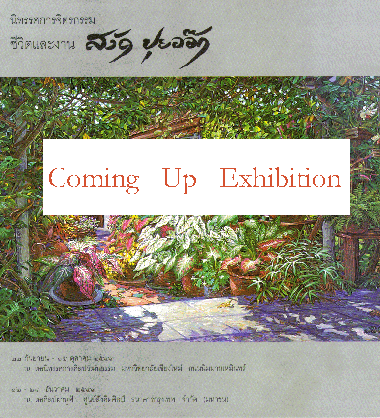 Swasdee Krab... The Art Gallery of Pui-ock proudly presents excellently beautiful paintings of one of the most celebrated Thai contemporary artists, Sa-ngad Pui-ock.Sa-ngad Pui-ock has his origins in Ratchaburee Province. For his special love of nature, he later moved to the northern part of Thailand, Chiang Mai, where he has planned to stay for the rest of his life. Thousands of his magnificent paintings of high artistry have been created in the public eye of Thai and international art circles. This homepage attempts to collect his past and present masterworks of a great impression.

Sa-ngad Pui-ock
Born
February 20, 1939, Ratchaburee Province, Thailand.
Education
1964 Diploma of Art, Faculty of Fine Art, Silpakorn University , Thailand.
1975 Bachelor of Art, Faculty of Fine Art, Silpakorn University , Thailand.
Present
A retired lecturer at the Faculty of Education, Chiang Mai University. He currently spends most of his time painting and looking after his only grandson at home.
Contact information
c/o email: Sittisak Pui-ock


To view each painting in this gallery, please click on each title;

Series I
This collection of paintings were painted during his visit to Ang Khang, Chiangmai.

Series II
It is his impression to collect the typical landscapes of Lanna Thai.

Series III
Lanna's Living style.

Series IV
Lotus, a symbolic flower in Buddhism, is an inspiration for him.

Series V
Views from the Southern part of Thailand

Series VI
Gardens and jungles

Sudsiri Collection
SudsiriPui-ock is a freelance artist. She has made many artworks since she was in high school. The followings are some of her artworks.
visit Sudsiri's Website

ภาพในอดีตเมื่อครั้งที่ ฯพณฯคุณชวน หลีกภัยให้เกียรติเข้าชมงานแสดง Some photos taken when ex-PM of Thailand: Chuan Leekpai was visiting Sa-ngad exhibition

Are there anythings to say?

You can reach me at hs5drl@yahoo.com, puiock@puiock-gallery.com


You are a visitor number... since April 20, 2000